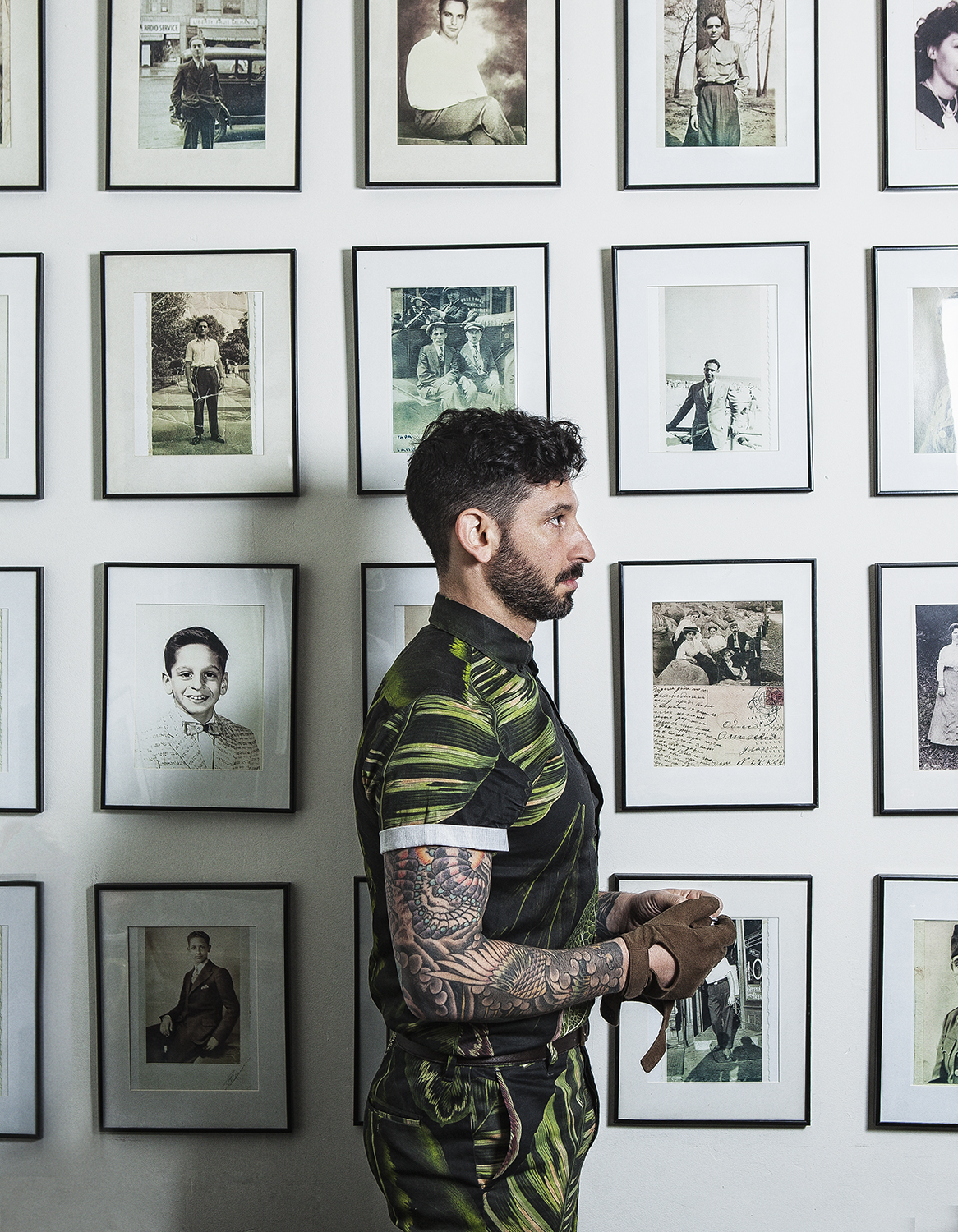 In 2010, Brave GentleMan was launched, becoming the first vegan lifestyle menswear brand in the world.
VOGUE says that, "The full scope of Katcher's ethical commitment is rather head-spinning, just as it is to gape about his Williamsburg shop, with its complete future-is-now men's range".
PAPER MAG said BGM has "just about everything an mindful fashionisto could want".
Sportswear International said that BGM is, "vegan smart and cool menswear".
Joshua Katcher is a fashion designer, author, activist and educator who has taught at Parsons The New School and LIM college, and has lectured internationally on sustainable and ethical fashion. He wrote first book in 2018, Fashion Animals, dedicated to understanding how and why animals are exploited in the fashion industry.
Brave GentleMan has graced the cover of British GQ's November 2016 Issue on Benedict Cumberbatch. Forbes has featured BGM in their gift guides, while COMPLEX called BGM one of the "coolest things" they've seen. Katcher was awarded " Menswear Brand of the Year, 2016" and "Most Influential Designer of 2015" by PETA. He was a contributor to HuffPo style, has appeared on the cover of Vegan Good Life Magazine, and has been interviewed on major networks, such as Al Jazeera America as a fashion expert.
troublemaker
Brave GentleMan does things differently. We embrace a slow-fashion production model. We resist industry-induced "seasons". We invest in sustainable innovation, superior vegan materials, ethical labor and classic styles made with quality.
YOU are a citizen
We don't like to call you a "consumer". That title is passive. You're more than a receptacle, and where you put your money actually matters. We like to think of our customers as citizen-investors whose purchases actually fund the systems they want to see flourish. Thank you for investing in Brave GentleMan.
MANIFESTO
'Ethical fashion' is not an aesthetic. It is a methodology. Brave GentleMan simply applies this method to classic menswear aesthetics. We don't believe animals belong in the fashion production system, or any industrial system for that matter. We believe that people making our clothing and growing, developing or processing our materials deserve respect and dignity through safe conditions and a living wage. We believe that ecosystems should not be destroyed in order to make fashion. We believe that the increasing velocity of "fast-fashion" is one very visible manifestation of a much larger and deeper problem. We don't think Brave GentleMan is a final solution, but it is a means by which to replace more problematic systems.
TRUE STORY
We believe that how products are made supersede any marketed "story". Most of our clothing is made in New York City's historic garment district using things like organic cotton, Brazilian future-wool tweeds and twills made from recycled cotton and recycled polyester, future-silk linings made from recycled water bottles. Our footwear and accessories are constructed in Italian future-leather - a durable, supple, weather resistant, hi-tech polyurethane microfiber that is EU-Ecolabel Certified. Buttons are made from corozo (tagua nut) and dyes are low-impact.
SUPERIOR MATERIALS GLOSSARY
Brave GentleMan's palette of materials is constantly in flux as we grow, as our buying-power and collaborations increase, and as we gain information about new materials that are available. Our goal is to use the highest-peformance materials with stringent aesthetic criteria that meet a set of ethical and environmental standards. We are excited for the day that biofabricated, biosynthetic and cellular agriculture products become available to us. While those are in development, we focus on minimally impactful, vegan, recycled, organic and high-tech sustainable materials.
Future-Leather
Instead of animal-based leather (being the most economically important aspect of the slaughter-business as well as the single greatest cause of the worst environmental problems), Brave GentleMan uses Italian-milled "future-leather" which is a high-tech, EU Ecolabel Certified, PU-based microfiber. PU is made in a strictly controlled and regulated chemical process, during which only a few grams per ton of chemical is ever released into the environment. The final polyurethane polymer is chemically inert. PU is also biodegradable by way of fungus found in landfill and soil.
Future-Wool
Far from sustainable, there are one-billion sheep on the planet, bred to accommodate demands for wool. We work with an EU Ecolabel Certified, fair-labor mill in Brazil which uses recycled-cotton/recycled-polyester blends diverted from the waste-stream, color separated for a dye-free process, mechanically broken down and re-spun into new yarns for many of our tweeds and twills featured in our suits and outerwear.
In addition, we are working with Italian-made bamboo suiting.
We look forward to the day we can incorporate synthesized keratin fibers (lab-grown wool fiber).
Future-Silk
Brave GentleMan uses "silk", made from 100% post-consumer, mechanically-recycled plastic bottles for linings and pocketing in our Autumn/Winter suits and outerwear. We hope to soon incorporate innovations like synthesized spider silk for linings, outers, threads, and more.
Organic Plant-Based Materials
For warmer weather garments we use a spectrum of non-GMO, organic cottons and organic linens from various places like India, France and the USA. We hope to soon incorporate innovations like mycelium fungus leather, and others.
Future-Ivory
Our buttons are all made from corozo (tagua nut), a sustainably-gathered nut that falls from the Ivory Palm. It's called the ivory palm due to the nuts' ivory-like strength, tactile and aesthetic properties.